Uncategorized
now browsing by category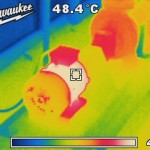 Thermal Imaging is very important for commercial sites. It gives a real time view of the equipment's operating temperature. This gives an operator a good idea of the condition of the pump.
Combining thermal imaging into you regular maintenance schedule will increase pump life and greatly reduce the chance of premature failure.
Pump 2 is running 7 degrees hotter than pump 1. This indicated excess bearing wear in pump 2. This temperature difference could not have been picked up by the old fashioned "look, listen, feel" technique.
The motor for this pump is running at a relatively good temp. The pump is temperature excellent.
The worn out bearings in the electric motor that was driving a pump, had overheated so badly that it created a very dangerous hot spot in the electrical circuits operating the motor.
The pump was immediately isolated and on further inspection it was revealed the the contactor from the heat, had welded its self together creating a constant open circuit that could not be tripped by the thermal overload.
This situation could have sparked an electrical fire and would not have been picked up without thermal imaging being added to the sites maintenance schedule.